PARK FALLS, Wisc. – Most anglers enjoy the thought of fishing travel – leaving their familiar home waters for more distant places that extend their angling seasons or broaden their fishing horizons. Fishing fanatics flock to the coasts and other various fishing destinations each year seeking new species and new scenery.
Whether anglers travel for the express purpose of fishing or for other reasons, all of them will want to point a rod at fish during some part of their trip. Sadly, many will be disappointed in the fishing rod they wield. Whether handed to them on a guide trip or used out of necessity from some local stock, anglers forced to use strange sticks that fail to measure up to the ones they left at home quickly learn their lesson.
Many traveling anglers resort to shipping or hauling their own, long, one-piece rods through the airports. It isn't the most convenient thing to do, but they know the effort, cost, and trouble will help them achieve greater success and satisfaction when they finally arrive at their port of call, especially when they're anticipating epic and memorable bites.
Well, that was then, and this is now. St. Croix Rod – handcrafters of the Best Rods on Earth® for nearly 75 years – gives today's traveling anglers the upper hand in any situation with a complete lineup of high-performance travel-friendly rods that combine multi-piece convenience with one-piece performance.
Whether traveling to target slab crappies on a Tennessee reservoir, bull reds on a saltwater marsh in Texas, or snook in the surf along some South Florida beach, St. Croix has the ideal lengths, powers, and actions in multi-piece configurations that make travel easy and worry-free. St. Croix materials, technology, and craftsmanship combine to ensure the rod gets there easier, while fishing without compromise once it does. And that's really what's most important to anglers. After the busy security checkpoints, lengthy flights, layovers, and long rental car lines, when the vacation begins and they're finally on the water, their St. Croix Avid Trek, Triumph Travel, or Triumph Surf Travel rods perform impeccably, without "feeling" like a travel rod.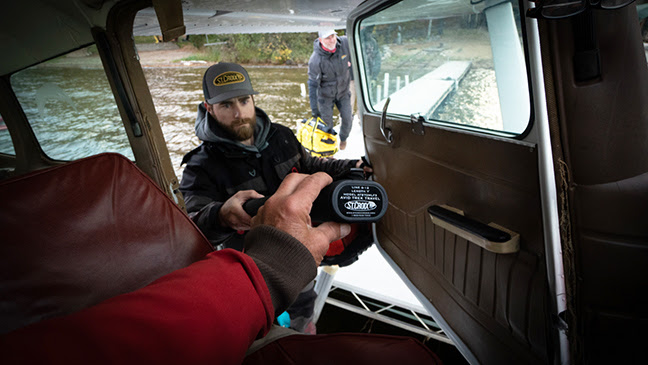 Packed with power, exceptional sensitivity and encompassing a selection of models to cover both freshwater and saltwater applications, new, American-crafted Avid Trek three-piece travel rods combine St. Croix's Integrated Poly Curve® (IPC®) mandrel technology with premium, high-modulus SCIII carbon for smooth power, improved casting accuracy and increased sensitivity. Featuring slim-profile ferrules, they sport premium components like Sea Guide Hero Hi-Grade guides with slim zirconia rings and SS316 stainless gun smoke frames. The series' six spinning models have Fuji® DPS reel seats with gun smoke hoods, while the casting model has a Fuji® ECS reel seat with a gun smoke hood. All Avid Trek rods come with a Sea Guide hook-keeper, select-grade cork handle, and two coats of Flex Coat slow cure finish for a sharp, clean and polished appearance.
All that tech is assembled to benefit those who roam to fish and wouldn't have it any other way. Grant Sorensen originally hails from the shores of Minnesota's Lake Superior but calls all of his many fishing destinations home whenever and wherever he arrives. Whether guiding customers for giant lakers and walleyes or creating content for his popular Superior Angling TV show along the many feeder creeks and tributaries to the Great Lakes for a host of trout species, Grant defines what it means to travel and fish.
"Negative stereotypes still exist for multi-piece rods among a lot of serious anglers," Sorensen says. "That comes from prior experience, and you can't blame them. Most anglers wonder which cast it'll be when the top section of the rod goes flying, and they're resigned to the fact that a multi-piece rod is going have 'dead spots' that sacrifice sensitivity, strength, and overall feel. But that's just not present with these Avid Trek rods; you forget you're fishing a rod with several sections, because they fish and perform like one-piece rods."
Even if he isn't hopping on a plane, Sorensen says multi-piece convenience is actually more of a necessity in the kind of remote fishing he's routinely engaged in. "Avid Trek just breaks down so quickly and easily," says Sorensen, who often arrives at a spot just to fish it for a few casts before making another move. "If I'm headed down long trails through the bush, crossing rivers, and back uphill, a one-piece rod won't make it there intact. Two miles through the woods is pretty normal in the remote Minnesota, Wisconsin, and Ontario bites we fish. Try it with a one-piece rod and something's going to get broken. Avid Trek just makes my day that much more efficient."
When fishing big brown trout, steelhead, walleyes and more, Sorensen is a fan of the 7' medium power, fast action Avid Trek spinning rod (ATS70MF3). "It's become my go-to because it's just such a versatile piece equipment. I've fought browns approaching 15 pounds in remote stretches of brushy rivers and steelhead that fight like lightning," he says. "A diversity of presentations means you need a sensitive rod that also has enough power turn a heavy fish in current to stop him from getting down to the next pool. This rod and others in the Avid Trek Series do just that. When we're jig fishing, or bouncing floating spawn off bottom, sensitivity is everything in telling the difference between a rock and a fish," Sorensen continues. "Some bites are obvious, but a lot of times those larger fish barely touch the bait, and those are the strikes can make or break your day."
Once the bait is presented and the bite happens, Sorensen says Avid Trek Travel sports a backbone rarely seen on travel rod series. "Because of their size and power, trout and salmon can be hard to land in the first place. Add current and rugged terrain that makes it difficult or sometimes impossible for an angler to follow a hooked fish downstream, and you quickly appreciate Avid Trek's stopping power," Sorensen advises. "Sensitivity without power does me no good; having both qualities in the same rod that breaks down and keeps me mobile is an incredible asset to the way I fish."
While the Avid Trek ATS70MF3 is Sorenson's favored rod for his more typical pursuits, he says its slightly longer cousin, the ATS76MF3, is a great fit for most of his other angling travel as well. "I spend a lot of time on the road, traveling to different destinations for various species. From Florida salt to Canadian rivers, I like to do it all. Both of these versatile rods are rated for 8-17-pound line and cast a variety of different lure weights very well. They have the power to handle large fish, whether that's a feisty ten-pound steelhead or a 40-pound tarpon. If you are considering buying just one travel rod, I'd recommend either of these."
No discussion on travel rods would be complete without diving into the St. Croix Triumph Travel Series. Durable, sensitive, and powerful, the Triumph family of rods blends technology with value to give anglers the precise tools they need to maintain the upper hand at an exceptional price. The formula works; collectively, Triumph enjoys the special distinction of being the best-selling North American-made fishing rod series in the world.
Built from premium SCII carbon, Triumph is an outstanding choice for anglers who appreciate high-performance without high cost. SCII is a standard modulus carbon fiber with a higher strain rate than fibers commonly used by other rod manufacturers. All Triumph rods also feature modernized Sea Guide componentry, starting with XDPS, ECS or TCS reel seats (depending on model) with eco-friendly sandblasted hoods. Triumph sports Sea Guide Atlas Performance slim aluminum-oxide guides with black frames, premium-grade cork handles, and two beautiful coats of Flex-Coat slow cure finish. All Triumph models come with a 5-year warranty backed by St. Croix Superstar Service. Five four-piece Triumph Travel spinning rods and one four-piece Triumph Travel casting rod are available to cover nearly any freshwater fishing situation.
As impressive as the Triumph spec sheet is, on-the-water performance is what matters to anglers. Enter Virginia angler, Tyler Brill – aka YouTube's Fish Hawk – who regularly shares his love of fishing with his more than 100K subscribers, as he chronicles both local and far-ranging angling adventures of all sorts. From Virginia stream trout, to saltwater species throughout the Carolinas and beyond, Brill plies his trade and takes people along for the ride, often highlighting and crediting mobility as a key to his craft.
"Triumph Travel helps me fish more places by breaking down small, compact, and easy to pack," says Brill. "I'm not in any way limited with these rods. I can basically fish anywhere in the world, because they hardly take up any space while coming with a pack case that keeps them secure and protected. And the lack of compromises also extends to Triumph Travel's performance."
Brill says he appreciates the classic feel of Triumph Travel's full-cork handle, along with the sensitivity in the blank that's sustained by St. Croix's slim-ferrule construction. "I can feel the lure and know what's going on under the surface," says Brill. "If it's a spinner, I'm feeling the blade rotate, or if it's a jig I feel the rocks, debris, or other structure. Picking out the bites is easy on this blank, and you'll honestly forget you're not fishing a one-piece rod. They're that good, and the bonus is they're priced where they're accessible to a wide range of anglers."
If Brill's playing favorites, it's with a TSR60LF4, a 6' light power, fast action stick that's great for slinging spinners on creeks, streams, and rivers. "I love that rod; it has the perfect balance of enough power to land large trout and ample sensitivity to detect subtle bites," he says. "Triumph Travel's four-piece construction means it breaks down into a very small package, and this model's 6' length remains compact and manageable even when fully assembled, so I can get it into tight spaces and make accurate casts where there's little room. I'm just far more efficient and precise with this rod in my hands."
Fish Hawk also loves targeting smallies, largemouth, and panfish too, often utilizing the same TSR60LF4, or opting for the 6'6" medium-light power Triumph Travel rods in fast or medium-fast actions (TSR66MLF4, TSR66MF4). "I'm a big inline-spinner guy," says Brill. "I can cover a ton of water in a short amount of time, targeting riffles, runs, eddies, and structure. I fish with eyes upstream, looking for the fishiest spots to hit before I move on. That takes miles of hiking through dense forests, which makes a small pack rod like Triumph Travel a necessity. Some days I'm hiking more than I'm fishing, so I just leave it in the pack until I'm ready to fish. You'd be amazed at what you can find when you get back into the spots where few boots ever walk."
Having a multi-piece rod that fishes like a one-piece is a revolutionary concept to most anglers, especially when "getting there" with a high-performance rod is the primary hurdle. That's certainly true for the legions of surf anglers, many of whom chase bites up and down their home coasts, and others who must first get to the coast, often by airplane.
Please follow and like us: