Fish and Game biologists learned on Oct. 10 that Lake Lowell now likely has a reproducing population of walleye. While the effects to Lake Lowell and other area fisheries are uncertain at this point, they are concerned about what this might mean for this fishery and others in Southwest Idaho.
During a recent warmwater fish survey of the outlet of Lake Lowell, Fish and Game staff encountered and killed 31 walleye of two different size classes. Most of the walleye were on the small side – around 7 inches in length – leading biologists to believe that they are successfully reproducing in the lake.
"We are not certain how walleye got into Lake Lowell in the first place, but their introduction was not sanctioned by Fish and Game and Lake Lowell is not a place we want them," said Art Butts, regional fisheries manager.
A reproducing population of walleye was something that biologists in the region had been hoping to avoid amid infrequent – but periodic – reports of anglers catching walleye there in recent years. They had a number of reasons to hold onto that hope: First, no walleye were encountered during a 2022 fish composition survey of the lake; second, all of the walleye reported by anglers in recent years had been larger adults, which biologists suspected had been illegally transferred into Lake Lowell.
But that changed in late September – just weeks before the survey – when Fish and Game confirmed a report of an angler catching a 7-inch walleye. With that report of a single, smaller fish, Butts had to consider the possibility that walleye were reproducing in Lake Lowell. After the survey, the possibility shifted to a probability.
"With the sheer number of walleye we sampled from just about 200 yards of the canal, and with the majority of those fish being in a smaller size class, it is a really strong piece of evidence showing that we have a self-sustaining population of walleye here," Butts said. "And that's really concerning."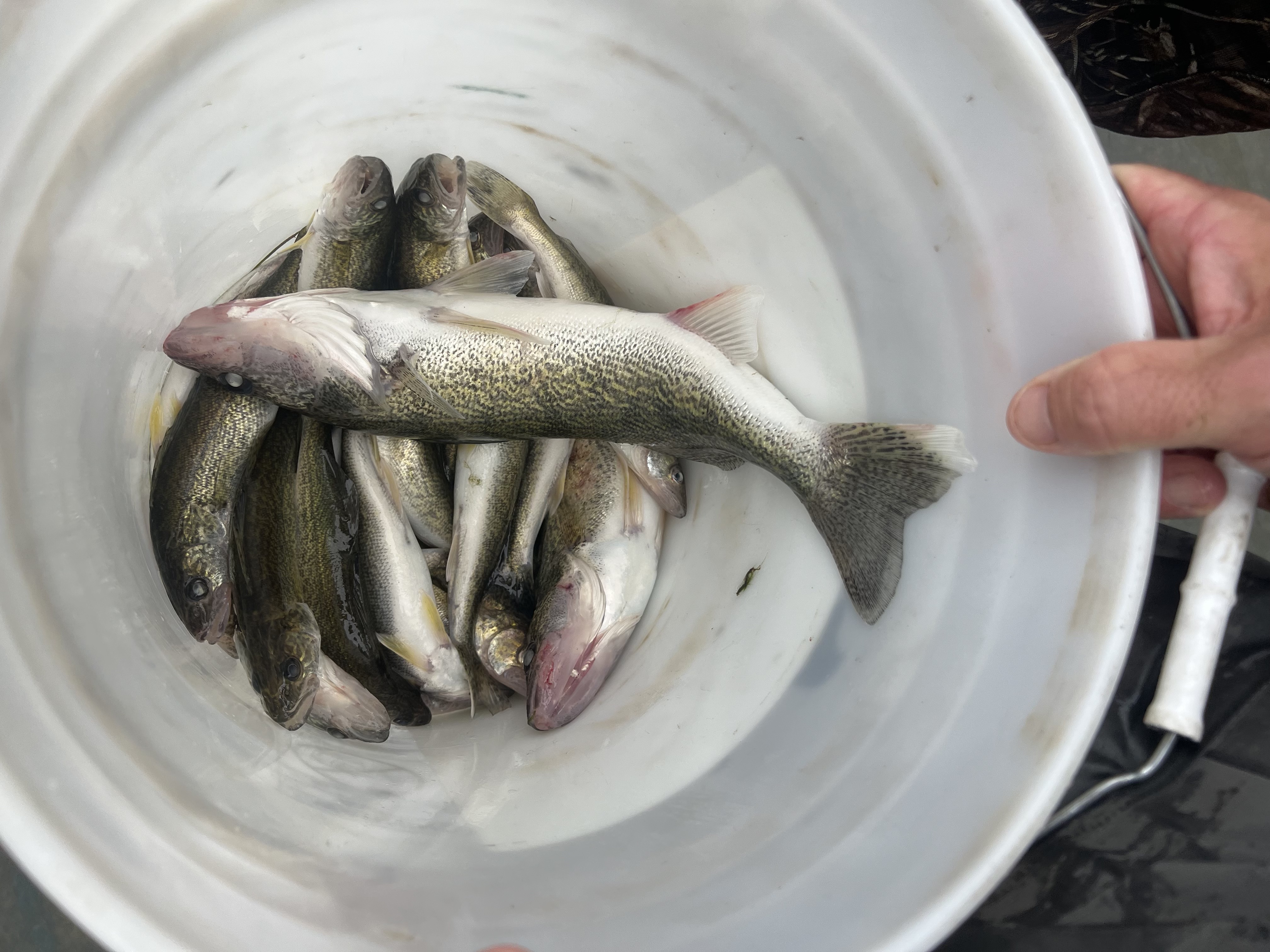 What's wrong with walleye?
Walleye are nonnative in Idaho and are managed in a limited numbers of waters in the state because they can be harmful to other gamefish populations, take over popular fishing waters and lead to a decrease in fish available for anglers.
"Put simply, walleye are fish that voraciously eat other fish," Butts said. "They are native to the Midwest where they rely on a prolific prey base that is just not present in Idaho waters – and that means they are instead going to prey on gamefish species, particularly panfish and trout, that are popular with anglers."
In waters where introduced walleye are not compatible with an existing fishery, walleye anglers might enjoy good fishing for a few years before the other shoe drops and the fishery becomes almost entirely composed of stunted, skinny walleye. This results in an unbalanced fishery that is equally unappealing to anglers who might have valued the panfish opportunity that previously existed there (or bass that relied on that prey base to grow to desirable sizes), as well as walleye anglers.
"These are the sort of things Fish and Game would weigh if we were considering introducing any new species to a fishery through the established, legal process – not just walleye," Butts said. "It's not something we would do without thorough consideration and forethought.
"When a highly invasive species is introduced to a water outside that established process, as walleye were in Lake Lowell, we are forced to dedicate a lot of resources towards assessing the impact on the existing fishery, and unfortunately, most of our anglers are robbed of the opportunity to weigh in on the matter."
Lake Lowell isn't a fit for walleye, but control strategies are limited
Fish and Game provides walleye in a few, carefully selected reservoirs that are in closed systems so the fish can't migrate into other waters, and where walleye are suitable for those bodies of water.
"Fish and Game doesn't view walleye as 'bad fish,'" Butts added. "But we do want to ensure that they are only in places where they are compatible with existing fisheries."
Walleye have migrated from neighboring states through river systems, and they can use canals and other waterways to migrate from one location to another. That's a major reason why Lake Lowell specifically is a bad place for an established walleye population.
"Most of the year, Lake Lowell is an open source to the Snake River through the canal systems," Butts said. "In theory, these fish could reach the Snake and go downstream into the Hells Canyon Complex of reservoirs and even below Hells Canyon itself, which is a major migration corridor for salmon and steelhead. They could also move up into the tributaries, including the Boise River."
In addition to walleye being able to move into new areas on their own from Lake Lowell, having another established population of walleye creates a new source for irresponsible people to illegally transport this highly predatory species to other, unconnected waters. Unfortunately, this is a known and confirmed issue within the Southwest Region. Fish and Game confirmed in early 2023 that a walleye caught in Lake Cascade was illegally introduced from another body of water using microchemistry analysis.
"Having a source water within the region could compound the issue and make it easier for irresponsible people to move these fish to places they shouldn't be," Butts said.
What it means for the Lake Lowell fishery itself
How might an established walleye population affect the Lake Lowell fishery itself? Frankly, fisheries staff don't know at this point.
"What we do know is that Lake Lowell is a forage fish-limited system, and it ebbs and flows with good and bad water years," Butts said.
The condition of largemouth bass, which is the primary species Fish and Game manages for at Lake Lowell, fluctuate according to the number of forage fish available. Walleye add another competitor to the mix that are likely to directly compete with bass for a variable forage base, but how that will ultimately play out remains to be seen.
"Now that walleye appear to be established, there aren't many viable control strategies for Lake Lowell," Butts said. "Unfortunately, we're going to have to wait and see. It is likely that this will alter the variety and abundance of fish species in Lake Lowell, and it's going to make things more difficult as we try to manage for our bass, bluegill, perch and catfish populations here."
How anglers can help
Fish and Game asks anglers who catch a walleye (in waters where they are not supposed to be) to kill, remove and report them to a regional office. Anglers can keep the fillets, but are being asked to save the carcass and bring it to a regional office, or notify department staff and arrange for a pickup.
"Because we do not have any legally established walleye fisheries in the entire Southwest Region – and these fish shouldn't be present here – we would also like walleye carcasses if anglers happen to catch one in another waterbody," Butts said.
Walleye in Lake Lowell