Anglers have expressed concerns about the quality of some of this region's trophy trout fisheries. Surveys were used to get the whole fish story.
What do Daniels Reservoir, Treasureton Reservoir, Springfield Lake, and Twentyfour Mile Reservoir have in common? Idaho Fish and Game manages them as trophy trout waters in the Southeast Region which means:
Trout limit is 2, none under 20 inches
One line only when ice fishing
No bait allowed, barbless hooks required.
These waters are popular destinations for those seeking large trout, but in recent years anglers have expressed concerns about the quality of these fisheries to staff in the Southeast Region. In June of 2023, our fisheries management team sought to answer whether these waters were still performing well under the trophy regulations. Our surveys used our standard "lowland lake" gears of gillnets, trapnets, and boat electrofishing at Daniels, Treasureton and Springfield while only gillnets and trapnets were used at Twentyfour Mile due to the absence of an improved boat ramp.
Daniels Reservoir
The 2023 survey of Daniels Reservoir resulted in 217 rainbow trout sampled with an average size of 17.5 inches and 1.8 pounds. These averages have increased since the electrofishing survey completed in 2017 when the average length of rainbow trout was only 14.7 inches and average weight was 1.3 pounds. The largest rainbow trout in 2023 was 19.6 inches and weighed 2.7 pounds. While it appears that the rainbow trout fishery at Daniels Reservoir is on the right track and fish are getting larger, no fish sampled in either the 2017 or 2023 survey had achieved the harvestable size of 20 inches.
To assess the level of harvest and angler catch rates, our fisheries management team is also conducting a creel survey at Daniels Reservoir this year. This creel survey will continue for 12 months (May 2023 to May 2024) to encompass both the open water and ice fishing seasons.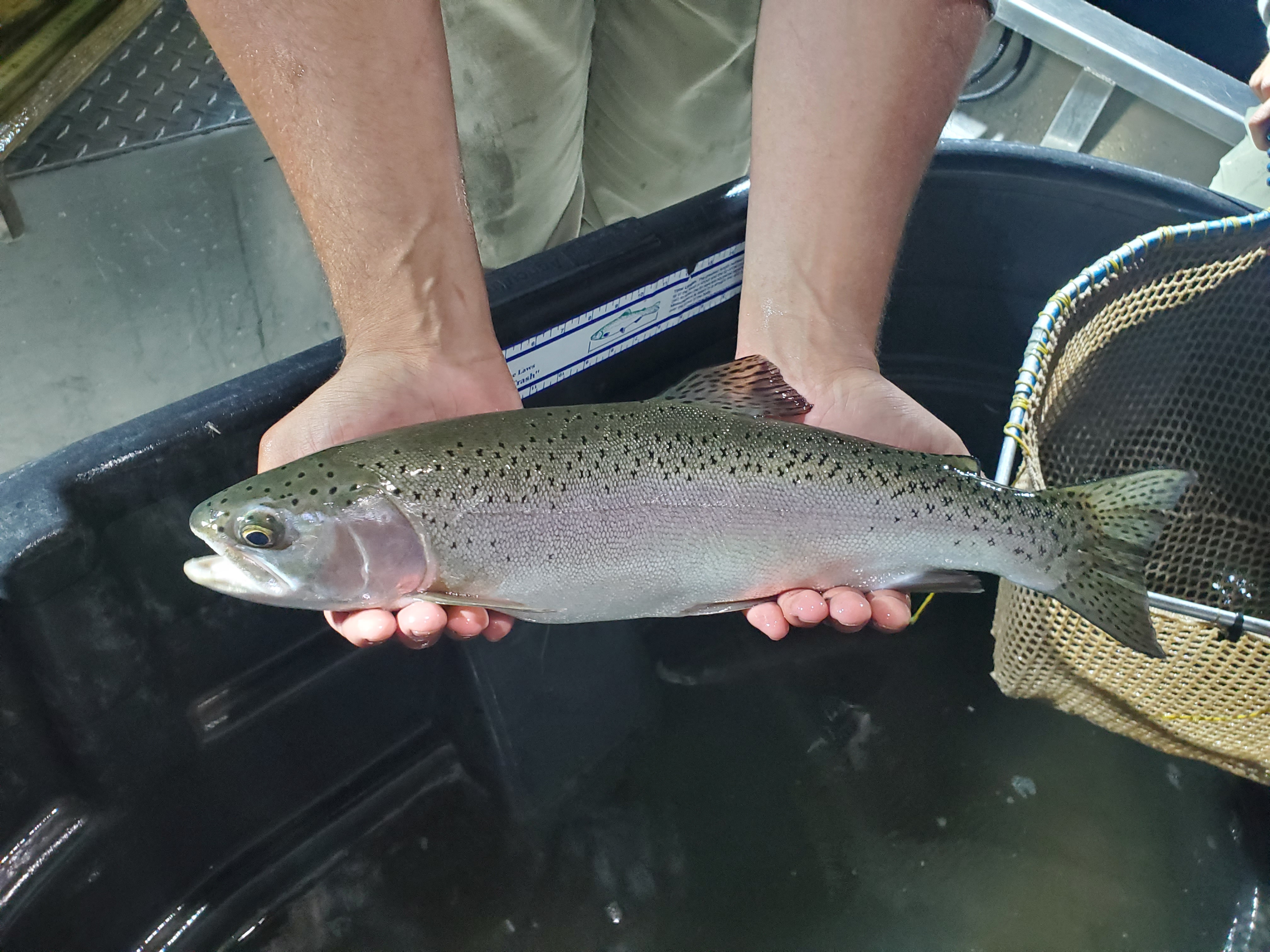 Treasureton Reservoir
Rainbow trout as well as rainbow trout x cutthroat trout hybrids, commonly called hybrids, were captured at Treasureton Reservoir in the 2023 survey. Twenty-seven rainbow trout were sampled with an average length of 18 inches and average weight of 2.5 pounds. These averages have increased since the 2017 electrofishing survey when rainbow trout averaged 15.8 inches and 1.7 pounds. The largest rainbow trout captured in 2023 was 25.6 inches and weighed 5.75 pounds.
Our survey also captured 21 hybrids with an average length of 16 inches and average weight of 1.8 pounds. The average size of hybrids has decreased since 2017 when average length was 19.8 inches and weight was 2.8 pounds. The largest hybrid captured in 2023 was 21.8 inches and weighed 4.3 pounds. Harvestable trout were more numerous in Treasureton Reservoir than Daniels Reservoir with 27% of the sampled trout measuring 20 inches in length or greater.
Treasureton Reservoir was treated with rotenone in 2018 to eliminate largemouth bass from the reservoir. Our survey did not capture any largemouth bass, which is good news for the trout fishery. Treasureton Reservoir also has an additional regulation with no size or bag limit on bass species to help prevent their establishment. However, we did capture 363 green sunfish with an average size of 4.8 inches. This species was likely illegally introduced to Treasureton Reservoir sometime after the 2018 rotenone treatment. Fisheries managers will be watching this population closely to determine if it may negatively impact the trophy trout population in Treasureton Reservoir.
Springfield Lake
Prior to the 2023 lowland lake survey, Springfield Lake had not been surveyed since 2008. In this year's survey, 15 rainbow trout were captured with an average length of 17.8 and an average weight of 2.2 pounds. The largest rainbow trout measured 23.5 inches and weighed 4.3 pounds. Harvestable trout were present in Springfield Lake with 33% of the rainbow trout sampled measuring 20 inches in length or greater.
Springfield Lake also had numerous nongame fish present with 452 Utah chub and 251 Utah suckers captured. Future management of this lake may include reducing the densities of Utah chub and Utah suckers to promote trout growth. Over the past three years, we have significantly increased hatchery stocking at this fishery. Despite these efforts, our results suggest that trout fishing at Springfield Lake will be challenging until limiting factors have been addressed.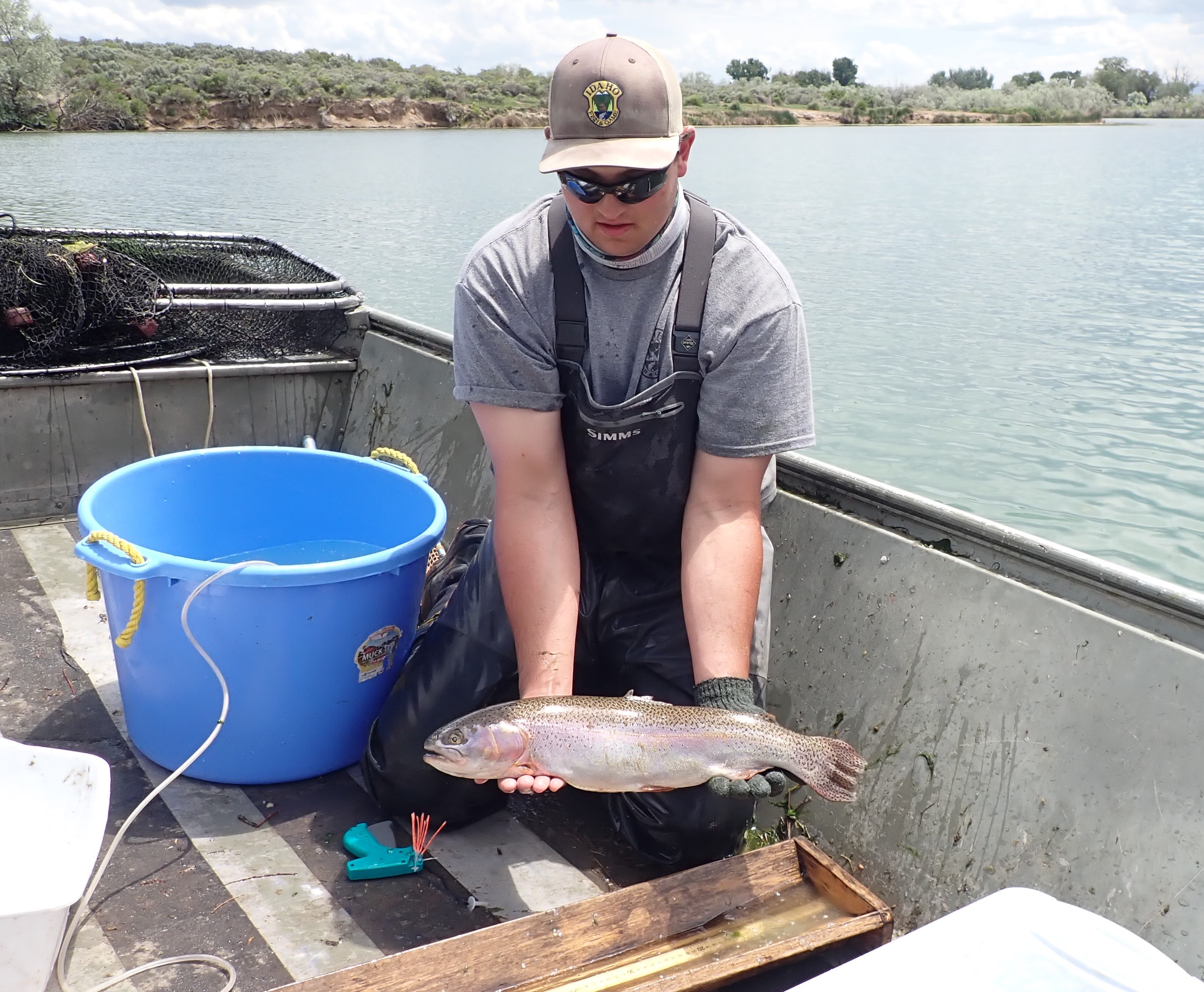 Twentyfour Mile Reservoir
At Twentyfour Mile Reservoir our crew captured one rainbow trout, three hybrids and 18 Yellowstone cutthroat trout. The rainbow trout was 19 inches long while the hybrids averaged 10.3 inches. The Yellowstone cutthroat trout averaged 14.1 inches long. This species' average length is similar to that of the 2016 gillnetting survey when the average length of Yellowstone cutthroat trout was 14.7 inches. About 14% of the population sampled was legally harvestable, exceeding 20 inches in length. Anglers venturing to Twentyfour Mile Reservoir should also keep in mind that no motors are allowed on this small waterbody.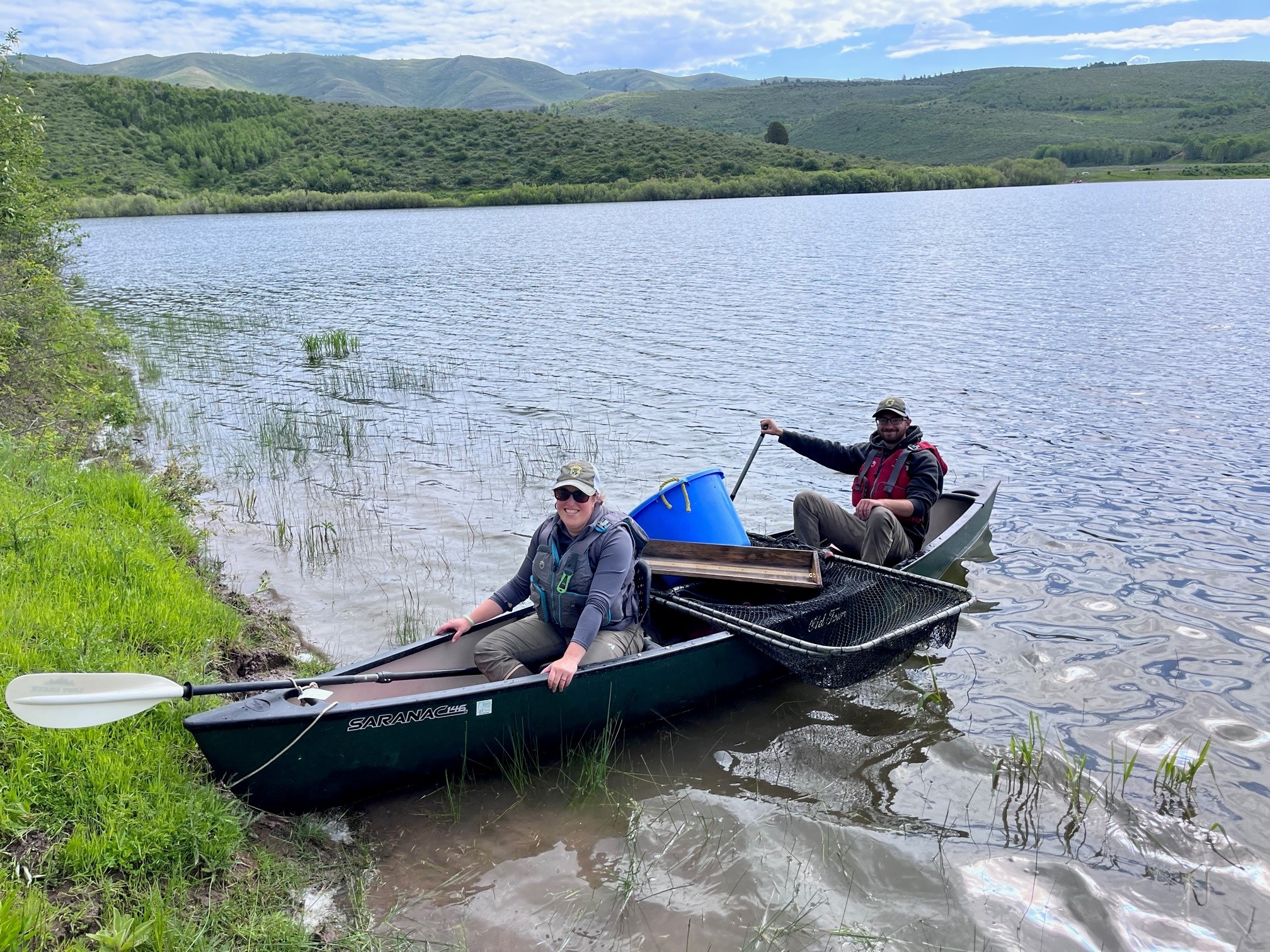 Report tags to help with fisheries management
At each of these fisheries, we also placed T-bar anchor tags into trout to improve fisheries management. Reporting these tags helps biologists understand harvest, survival, growth, and migrations. If you catch one of these fish, please report it to the Tag! You're It! website or call 1-866-258-0338.
Another piece of the puzzle
Fishing at these reservoirs has been different this year. Three consecutive years of drought likely caused high fish mortality and reduced growth potential. Then the Southeast Region experienced a long hard winter which resulted in fewer fish being dispersed throughout a larger volume of water from the high runoff. This scenario likely reduced catch-rates, which has been frustrating for anglers. The good news is that due to the high runoff from the extreme winter, the reservoirs are full, and the fish stocked this year are likely to survive and grow well into the coming years!
If you have any questions about these trophy trout fisheries or the surveys conducted in the Southeast Region, please call the Southeast Region Fish and Game office in Pocatello at 208-232-4703.
If you are looking for more information about fishing in the Southeast Region, including locations of fisheries and stocking information, check out the Idaho Fishing Planner.